Our Brand
Welcome to Betty x Bow! We are a fashion brand that empowers women to look and feel beautiful in our clothes. Our unique value is blending timelessness with trend-setting style, never compromising on quality or comfort. We stand for redefining traditional standards when it comes to dressing and inspiring confidence through clothing. With the mission of simplifying wardrobe choices by creating classic pieces designed to last for years, we are proud to be Canadian and support local manufacturers and creative minds within the fashion industry. Our vision is helping all women dress effortless yet bold, no matter what the occasion may be!
BXB FOUNDER
Meet Allison Kittle
Growing up in Ottawa, Ontario Canada, my passion for fashion started at a young age, putting on fashion shows for my parents after shopping trips with my mom. For me, fashion is more than just clothes; it's an art of combining design, detail, and structure to create the perfect outfits.
As I built my own wardrobe, I struggled to find clothing that was both basic and feminine. That's why I created BXB: a brand that takes simplicity to the next level with staple pieces that become your everyday favourites.
Before my dreams to become an entrepreneur in the fashion industry, I embarked on a different career path as a NICU nurse. Even after a decade of working in healthcare, I couldn't shake off my love for fashion. I'm grateful for my healthcare profession, but my passion for fashion is just as deep. My ultimate goal is to empower women to feel confident and beautiful, knowing that they're wearing pieces that are as timeless as they are stylish.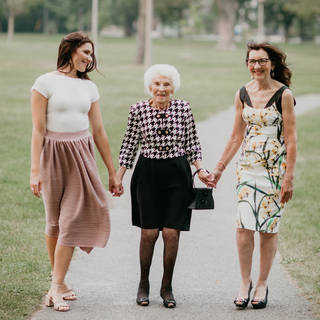 Discover The Inspiration Behind Our Brand's Name
When I started my brand, I knew I wanted it to embody the essence of fashion that inspires confidence, strength, beauty and femininity. It all started with my grandmother Betty and mother Barbara, who taught me the value of kindness, class, charm and polished style. My passion for fashion was ignited by these two remarkable women, and it just felt right to honour them in my brand.

That's why every BXB style bears a name that has a special meaning to me and my family. With every piece, I strive to capture the same sense of confidence and elegance that my grandmother and mother embody. Join me on this journey as we celebrate timeless style with a modern edge!